Premium Quality Imaging Diagnostics as a Service
We partner with primary care practices to provide permanent, on-site diagnostic imaging capabilities and best-in-class interpretations that improve outcomes.  Imagen's diagnostics as a service platform is customized to meet the unique needs of  your practice so you can deliver exceptional patient experiences, improved care quality, and positive financial outcomes.
Learn More
Driving Value Through Early Detection
Imagen's solutions detect conditions at their earliest stages through regular screening and testing, allowing clinicians to intervene to treat disease early.
73%

Reduction of life-threatening clinical misses*

96%

Of patients recommend physician practice with Imagen services

48%

Increased Aortic Atherosclerosis detection for patients 65+**
*Based on clinical research for Chest-CAD. **Based on retrospective review of 2008 – 2016 dataset of 2+million chest X-ray cases across 1.2 million patients from a provider archive, stratified by patients 65+ years of age. Software not FDA cleared.
Solutions
Permanent On-Site Diagnostic Imaging
Provide immediate in-office diagnostic testing and results to your patients, supported by an on-demand virtual specialist visit, before they even leave your office.
View Solutions
Technology
Cutting-Edge
AI Software
Imagen's proprietary, FDA-cleared software helps physicians detect and diagnose findings more comprehensively and document findings more automatically.
Our Technology
Diagnostics as a Service
Rethink
Diagnostics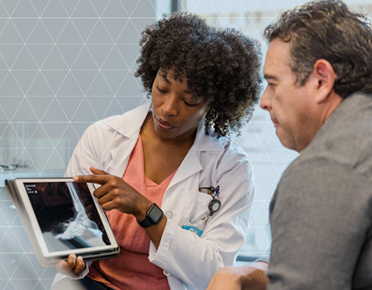 At Imagen, we think it's time to rethink diagnostic imaging for more accurate image interpretation, better patient experience, and an improved bottom line for your practice.
Learn More

See how our diagnostic imaging platform can positively affect your bottom line.
Learn More
Making High-Quality Healthcare Accessible To Everyone
We are creating a new standard in primary care, using front line diagnostic testing and first-of-its-kind AI to bring world-class diagnostic care into every doctor's office.
Our Mission